We are proud to announce the official launch of our latest WordPress plugin,

Bertha.ai

.

Bertha is a content creation assistant for bloggers and publishers. she helps you create great content every time.
We know how hard it is to come up with something to write about every day. Even if you do manage to find a topic that's interesting enough, creating an article from scratch can be extremely time consuming and difficult.
That's why we created Bertha , so that you can get to the crux of the matter, quickly and with less hassle and at low cost. We have spent just of 4,000 hours writing, educating and implementing Bertha into what she has become today. As a boot strapped company, we believe that giving users an opportunity to get over the CONTENT ROAD BLOCK that affects everyone in the WordPress community from Customers, developers and freelancers, we have built a truly useful content writing assistant that you will, like us, fall in love with.

It is common knowledge that using WordPress as a platform for blogging and writing is very popular.

However, writing content can be a bit tedious and time consuming if you do not have the right tools to make it easier.

Using Bertha as your writing assistant brings about the creation of topics, introduction paragraphs, which you can then expand upon and great conclusion paragraphs too. If you align these with you current knowledge around your chosen subject., Bertha AI is the ultimate bloggers writing assistant.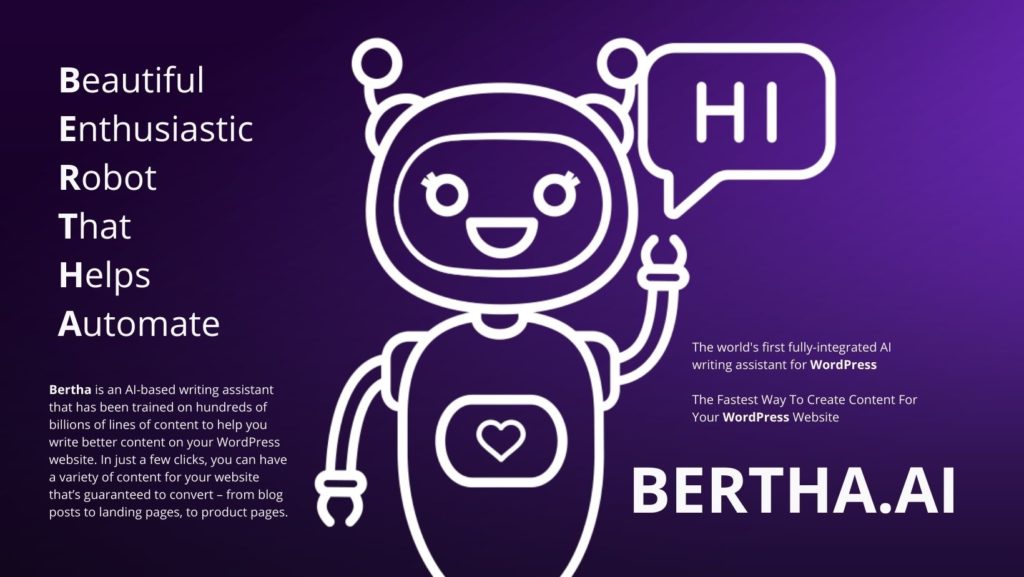 Vito Peleg of Atarim fame and myself decided just over 60 days ago to build Bertha, we wanted her to be your friend, we wanted her to have the full knowledge of what a website should be, How to write content for ANY website (after all, between us we have built over 3,000 websites). All AI needs educating, Bertha will learn with you, you can even ask her for a unique tone of voice from Helpful, to funny, to professional and even in the style of Frank Sinatra and no, I am not kidding. She works well with LTR languages and we are working on RTL as I type. Just tell her what you want from the templates we have created and away she goes, giving fantastic quality suggestions that you can then expand upon. She truly is your personal writing assistant.
We want Bertha to be a daily part of your WordPress journey. Always on, always there to help you write better content. She works well with all the most popular page builders and of course, classic editor and Gutenberg. – no extra block needed, no searching for her as she is right there at the click of a button.
She also keeps all your writing history so you can go back and utilize all her work. All her ideas are stored right where you need them under the Model template that you first created the content under. You may visit the history tab at anytime to reuse, repurpose or simply use an idea that you have not used before and it doesn't count towards your monthly usage – good news right?
It was also important for us to let Bertha do her work in the most popular page builders – that is always challenging as they update literally daily – but, out of the box, she is ready with Divi, Elementor, Gutenberg and of course, the WordPress classic builder. Further iterations with Beaver Builder, Visual Composer, Thrive Architect and even Oxygen are under way.
If you are interested in using AI to help you write better content on your WordPress site – Bertha is for you. One login, unlimited users and if you opt in to the unlimited words package, you are well on your way to becoming the writer you desire to be.
We'll be adding Bertha to the WordPress repository very soon. In any event, you can have Bertha on your site for free – you get to experience the potential and it won't cost you a cent!
Bertha wrote 80% of this article and as you can see, our new WordPress Content Creation Assistant is a great tool to use for creating engaging content.
You definitely will be able to create more content in less time with this amazing assistant!

Sign up today and start writing the best content for your users and visitors. You get 1,000 free words a month – so just go for it.
And for the nerds – here' s the stack Bertha is built on:

Independent VPS – Digital Ocean 16GB Memory, 50GB Disk, Ubuntu 18.04 x 64 Load Balanced
Hosting Managed with GridPane
Site Built with WordPress, Elementor
Ecommerce/Licensing – Easy Digital Downloads
Payment gateway – Stripe