There are a lot of different opinions out there about whether or not hiring a business coach is worth it.
Some people swear by them and say that they've seen a huge difference in their business since working with a coach.
Others say that it's a waste of money and that you can get the same results by reading books or articles about business.
So, what's the truth? Is getting a business coach worth it?
There are a lot of things to think about when you're starting a business or trying to get an established business to perform better. From product development and marketing to financial planning and sales, it can be tough to know where to start—or what you should even be doing. That's where a business coach comes in.
A business coach is someone who has been through the start-up process before and can help you navigate the early stages of your business as well as help you reorganize your established business and processes to make you more efficient and therefore, more profitable. Sometimes, its great to get an umbrella view of what you are doing and trying to achieve.

While you may be able to figure some things out on your own, a business coach can save you a lot of time and energy. They can help you develop a clear plan for your business, set realistic goals, and hold you accountable along the way. If you're serious about starting a business or getting your business on track for growth, then getting a business coach is an option you should definitely explore.
Overall, the decision of whether or not to hire a business coach depends on the individual business owner's needs and goals. If a business owner feels that they would benefit from the guidance and support of a coach, then it may be worth the investment. However, if a business owner feels that they can grow their business without a coach, then it may not be necessary to hire one. However, with the right coach by your side, you'll be able to take your business to your desired level, whether that's a fortune 500 company or a lifestyle business that gives you the freedom to explore your world outside of your business.
To reiterate, a business coach can;
Help you get clarity on your business goals
Help create a roadmap to achieve your goals
Allow you to stay accountable and on track
Give you expert support and advice
Coach or Mentor – what's the difference
A coach is someone who helps you improve your skills and performance in a specific activity. A mentor is someone who provides guidance and advice to help you achieve your goals. In truth both can either offer you free advice for a short period of time or charge. Specifically, Mentors are seen as a non chargeable service as they tend to get as much benefit from mentoring you as you get from them.
How much should I budget for a business coach
You should budget at least £600 per month for a business coach for around an hour a session for face to face (Zoom) x 4 sessions and a couple of emails to see how you doing through the month. . Anything less and a coach may consider you a bad fit if you don't feel you can invest in yourself.
I know coaches who charge around £600 a month for a 1 hour session and a couple of 15 minute 'catch up calls. I also know coaches who charge around £1,000 to £5,000 a month for the same service to high net worth individuals who are struggling to find their way now they have found themselves at the top of the tree. Some people may suffer from 'Imposter Syndrome' others may have been 'Over Promoted' and can't get to grips with how they should behave with colleagues or simply dealing with the intricacies of running a large company.
The figures above are a guideline though and the amount you spend will depend on your specific needs and goals. Some coaches may charge more or less than this amount, so it is important to shop around and find the right coach for you.
How do business coaches charge
The answer may vary depending on the business coach, but some common charges are pretty much base don the following:
The coach has a wealth of experience and knowledge that can help businesses achieve success
The coach is able to provide an unbiased perspective and objective feedback
The coach is able to help businesses save time and money by providing guidance on efficient and effective strategies
The coach can help businesses increase profits and grow through customized solutions
The coach's fees are typically a fraction of the cost of hiring a consultant or other professional services
Do I need a business coach or a counsellor
It depends on what kind of help you need. If you need help with business-related issues, such as marketing or management, then you may benefit from working with a business coach.
If you need help with personal issues such as stress or anxiety, then you may benefit from working with a counsellor.
Sometimes it's hard to determine exactly what you need. Life and running a business have similar problems.
Relationships, making new friends, getting new clients, keeping the clients/friends you already have. Its a fine line between a coach and a counsellor. The only discernible difference in being a Business coach is not qualified to give you personal/intimate advice – they may give anecdotal advice from their own lived experiences but its best to draw a line and even think about getting a counsellor if you have personal issues that may need addressing, even if these issues are affecting the way your business is run.
Be prepared to answer some questions
What is your company's history?
How did you come up with the idea for your business?
What are your company's core values and how do they guide your business decisions?
What are your company's competitive advantages?
How has your company grown over the years?
What are your company's plans for the future?
What are some of the challenges your company has faced and how did you aim to overcome them?
What is your company's culture like?
What are some of the things your employees (if you have them) love about working for your company?
What are your company's plans for expanding its reach and impact?
In truth, you may not know the answers to the questions. Many of these should have been asked BEFORE you started a business and a Coach will help you define your goals through these 'getting to know' you queries. It is surprising to me when I get asked to coach individuals on their business how many don't know the answers to questions a coach may have for them. But, a coach can help you define them and guide you through the challenges associated with running a business whether you have staff or not.
How do you know you need coaching?
There are a few different ways to tell if you need coaching;
You may feel like you're stuck in a rut and not sure how to get out.
You may feel like you're not reaching your full potential.
You may feel like you need someone to help you make a major life decision.
You may feel like you're not reaching your goals.
If you're feeling any of these things, it's possible that coaching could help you. The best way to know for sure is to schedule a consultation with a coach. This will give you a chance to discuss your goals and see if coaching is right for you.
Why do my clients think I am a good business coach?
My philosophy is all about making people's business lives easier by providing helpful advice on everything we discussed in this post. I am known for being a straight talker and a creative thinker.
But what makes me a good business coach (according to my clients) is my willingness to help others achieve their goals. I am always ready to share my knowledge and experience with others and I have a genuine interest in helping people succeed.
My coaching style is a little different and I tend to get to the nitty gritty of your issues pretty quickly to help you decide what is the best thing to do in general discussion.
I tend not to set unachievable targets at every session and allow you to explore what is best for you and your business through a series of examples and story telling. I like to make you accountable and at the end of each session, I like to set just one task that should be completed by the next session. This has had a real level of success for my clients.
Here's what some past and present clients have to say about my coaching experience.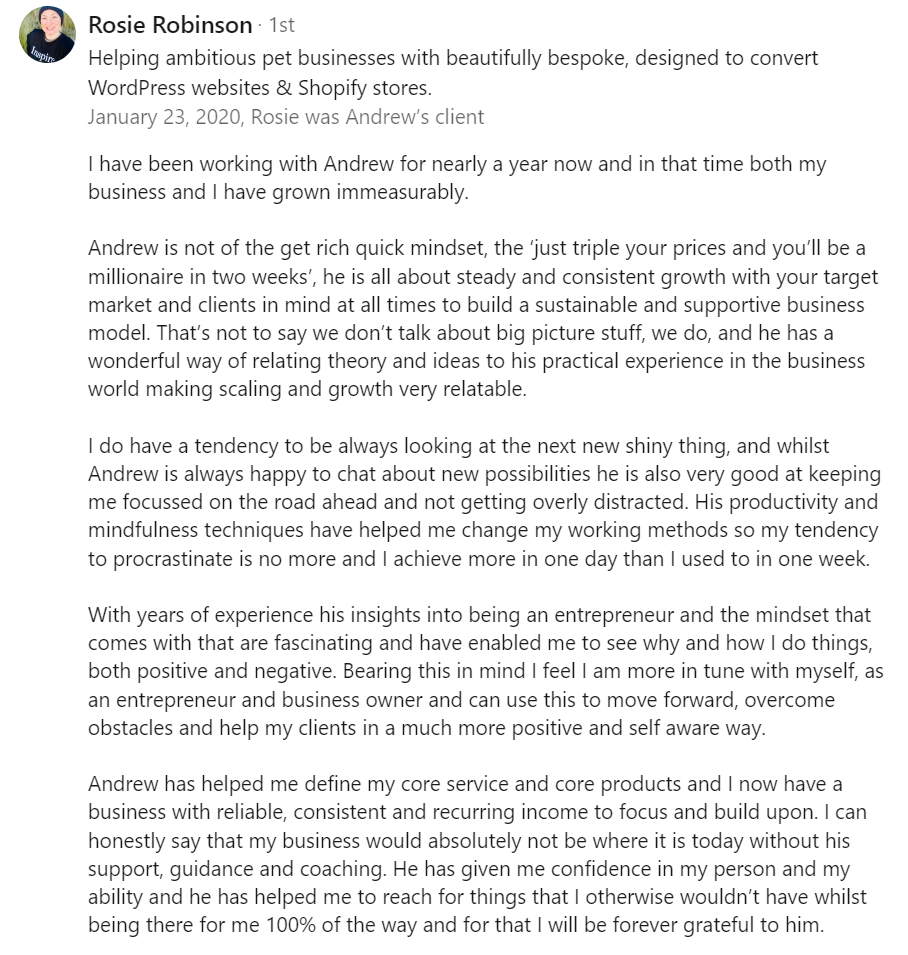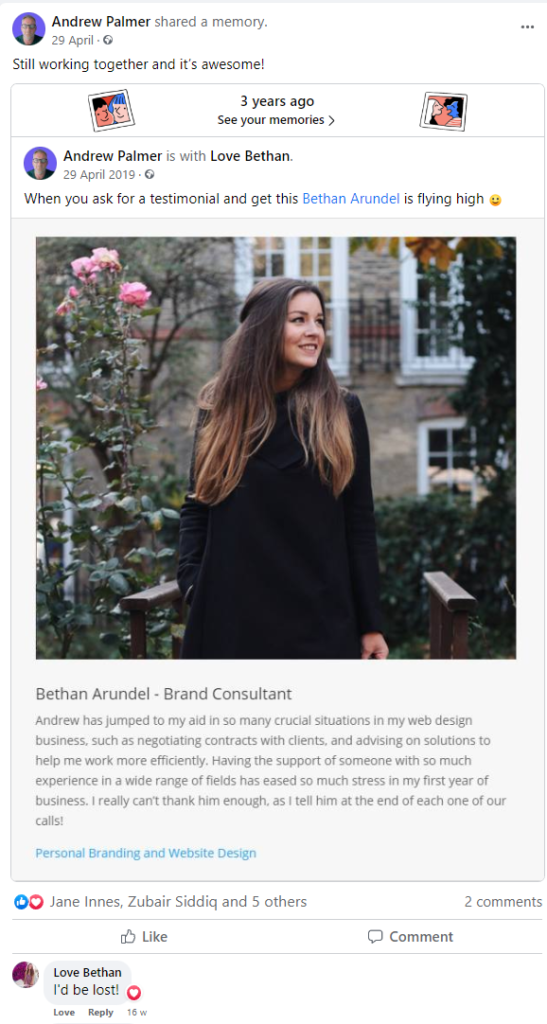 If you have not thought about getting some coaching. I hope this post has helped you at least think about some of the benefits as an individual and as a business.
I am currently fully booked on coaching but, do have a wait list. Feel free to connect with me when you are ready to move forward with coaching.